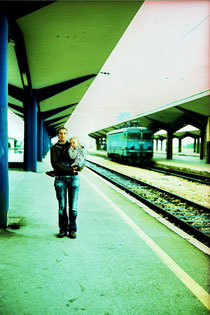 Based in Zurich, I work as a freelance picture editor while realizing my projects in photography in my studio and traveling around the world.
In 2016 I got my degree in the MAS Master in peace and conflict studies at the University of Basel.
I studied Social Work and Hispanic Literature in Fribourg, Switzerland. Later I worked in Zurich and Sarajevo as a Social Worker with women and refugees. In 2000 I began working in the field of photography and media.
I worked as a picture editor in different daily newspapers and weekly magazines, such as Tagesanzeiger, Tribune de Genève and Sonntagszeitung and studied Picture Editing at the MAZ in Lucerne. In 2003 I completed a training at "Contact Press Images" in New York.
The exhibition of my work in cross-photography called "attraversiamo" was shown 2013 in Zug, Switzerland, 2011 in Sarajevo and 2008 in Zürich. The series of photographs shows women in the towns where they live- a project that I am still pursuing.
With the atelier Kontrast we exhibited in 2014 in the Photobastei in Zurich. For this group exhibition together with Ursula Eichenberger we produced a series of five photographs with a text called "Im Kreis".
In march 2012 I organized a workshop "The impact of photography in print and online-media" at the faculty of political science in Sarajevo. During an intense week we explored and discussed with the students the use of photography in the current media.